Our Mountain Camp at El Rancho Verde
"The Green Ranch" is high in the Sierra Madre Occidental of western Chihuahua, Mexico, where almost 70 percent of Mexico's Gould's wild turkeys reside. We hunt on private a ranch west of the Continental Divide only a few miles east of the state of Sonora.

Hunting Dates
The 4-day hunts begin on Monday of the second full week in April and end in May. Date adjustments from year to year are seldom more than 2 or 3 days.

1st Hunt - April 7-10,
La Quinta Inn El Paso April 5,
to camp April 6, back to El Paso April 11
2nd Hunt - April 14-17,
La Quinta Inn El Paso April 12,
to camp April 13, back to El Paso April 18
3rd Hunt - April 21-24,
La Quinta Inn El Paso April 19,
to camp April 20, back to El Paso April 25
4th Hunt - April 28-May 1,
La Quinta Inn El Paso April 26,
to camp April 27, back to El Paso May 2

Hunting is during the period of maximum gobbling activity in the northwestern Sierra Madre Mountains. Gobbling begins in late March and is good enough for successful hunting through the entire month of April and most of May. Although it is often said that Gould's turkeys gobble best in late April and early May, the advantage of April hunting is the fact that the turkeys are undisturbed in early April and few have yet been killed. Consequently, success has been similar for both early and late hunts. Rancho Verde is very large and no part of it gets over hunted. Lovett will be glad to discuss this with you.


Giant Gould's with giant juniper tree as a backdrop


Giant Goulds. Giant Juniper.

The Cabin at El Verde after a morning hunt.

Price and Payment
The hunt fee is $1650 plus $250 for licenses and permits--total $1900. The fee includes camp accommodations and meals, hunting license, paperwork, and transportation from El Paso, Texas to camp and back to El Paso. If you want to go, send $300 in a check payable to Lovett Williams. Use the reservation request form to send contact information and to indicate which hunt you prefer. Your $300 is refundable until you pay the 50% deposit when called for during the summer. After the 50% deposit called for, I can make a refund only if your vacancy can be filled. If you request a reservation after July 1, send a 50% deposit.


Number of Hunters
Six (6) hunters per party. You can reserve a hunt for your whole party or I will put you in a party with other hunters and send you their names and contact information before your hunt date.
Bag Limit
One gobbler goes with the basic price. You can take a second gobbler by paying a trophy fee. If you want to take 2 turkeys across the border, I need a $200 advance deposit because the outfitter will have to buy a second permit for you. If you don't want to take but one turkey across the border, the 2nd turkey fee is only $500. If you want to take any part of 2 turkeys across the border, you will need a permit and the fee will be $700. Ask Lovett to explain the second turkey policy if you need more information or wait for the memo about the 2nd turkey policy after you book.


Head Guide Viga Montes posing with a gobbler hunting client Sid Baker took at El Verde in 2006.

Success Rate
There is an excellent turkey population and much acreage to hunt. The success rate is almost always 100%. Gould's turkeys do much gobbling and are very responsive to calling. Calling and other tactics used in hunting other turkey subspecies are successful with Gould's.
Your Trophy
We cannot import whole turkey carcasses in the USA. Your trophy will be skinned in camp and ready for your taxidermist when you cross the border. If the outfitter skins your gobbler for mounting, there is a $50 skinning fee, but he will help you skin it yourself for no charge. We know the border requirements--you won't risk losing your trophy.

Be sure to complete the Data for Trophy Certificate form if you want a handsome certificate with your name, hunting location, and physical attributes of your trophy. View an example of the Gould's trophy certificate.


A Gould's gobbler on a rocky oak ridge--at 10 yards.
Guns
The outfitter furnishes good 12 gauge repeating shotguns and U.S. turkey grade ammunition. Using guns furnished by the outfitter circumvents mucho red tape and saves you the high gun permit fee.
Accommodations
Accommodations are in mountain log cabins—bedrooms with cots and mattresses, kitchen, and dining room with a full-time cook and other helpers. The food is excellent, plentiful, and authentic "comida tipica."

Guides, cooks, an interpreter, and your outfitter will be in camp and sometimes also Lovett Williams. Guides will take you to a hunting territory each morning and afternoon. If you do your own calling, you don't need a personal guide.

A Gould's in the morning sun, called in with a wingbone yelper

made from Gould's wild turkey bones.

Guiding
Camp personnel will be scouting for you, taking you to and from roosting places, and providing maximum assistance. A personal guide is available for a few of $50 per half-day. Please discuss your need for a guide with Lovett in advance.

Ho hum, another fine morning in the Sierra Madre.

The Evening Before Your Trip to Camp
You need to travel to El Paso two evenings before your first hunt day. The outfitter/driver will handle the border crossing. If your 4-day hunt begins on April 9, you need to be in El Paso the evening of April 7 to be picked up by the outfitter the morning of April 8 and taken to camp. You would hunt 4 days--April 9-12-- and be taken back to El Paso on April 13 and fly home early on April 14. It is best not to plan to fly home the evening you arrive back in El Paso because of the possibility of a delay en route to El Paso.
| | |
| --- | --- |
| | Head guide Viga, the outfitter's son, weighing in the trophies |

Your Gould's trophy will be skinned in camp and prepared for the trip to the States.

Hunting Conditions and Terrain
Hunting is at 6,000-7,000 feet elevation. We call the hunting grounds "ranches" but the mountains are unimproved timber and range land. Hunters are transported in vehicles from the mountain cabin to and from where they will hunt. There are no paved roads, no fields or improved pastures, and no food plots but there is an outstanding wild turkey population and beautiful wild mountains from horizon to horizon. You will be hunting in the rugged country of northern Mexico, which, except for a few dirt roads, has remained unchanged since Geronimo hid out there. You will be hunting where that famous Indian so successfully eluded the U.S. Army. We can accommodate any hunter in average health.

When and Where to Meet
We will suggest a lodging place that has free airport pickup service so that your party will be together and picked up without loss of time. You will visit a store en route for items you didn't pack for the trip to El Paso.

No Early Returns
The camp is deep in the mountains and transportation is difficult and limited. The outfitter cannot bring hunters out for early return home except in cases of emergency or unless the whole party wishes to return when they all take a turkey.

Danger in Mexico?
Chihuahuans are accustomed to American tourists. Many speak some English and all are friendly. The horror stories you hear about Mexico are internal affairs among Mexicans and mostly occur in large cities along the border. The stories are akin to the alligator and snake stories you hear about Florida--almost entirely media hype. You will enter Mexico at a rural crossing in New Mexico 20 miles west of El Paso.
Going for the Gould's soon?
Hunting and booking procedures are the same from year to year.
Click this link to read more

or

make your reservation now

.
Your Outfitter.
Your outfitter is Socorro Montes. The outfitter takes only hunters booked by Lovett. Lovett visits the hunting camp and advises the outfitter about policy and accommodations. This close and exclusive relationship insures that your hunt will be hassle-free, enjoyable, and successful. You will meet your Mexican outfitter or his representative when you are picked up in El Paso for the trip to the hunting camp.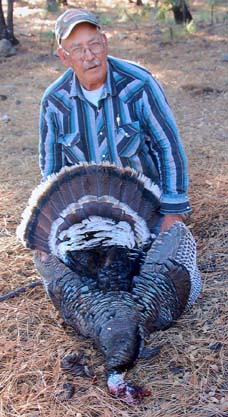 Socorro Montes--your rancher/outfitter at El Verde
View instructions about how to use a wingbone yelper.